Book Review: Birth In Focus by Becky Reed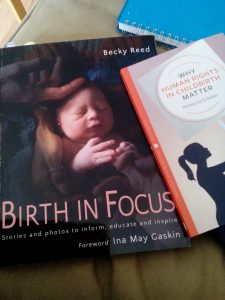 What I love the most about this book is all the different perspectives. We have a collection of personal stories and photographs, mainly – inevitably – of births that take place at home. There are births in water, breech births, twins and a caesarean; and the stories are told both by midwife Becky Reed and by the mother, and then in several cases also by the partner, a sibling, and even a grandmother. It gives such a fascinating, colourful, and relentlessly positive picture of birth, in all its amazing variety.
The stories are then used to illustrate and provide anecdotal evidence for the final chapter, which all too briefly explores the theory of normalizing birth, giving a good overview of relevant research, and a great introduction to the subject for parents-to-be and birth professionals alike.
This is a book that is both useful and beautiful, and therefore it has a place in every home!
[Disclosure: I received a free review copy of Birth In Focus from the publisher Pinter & Martin. Order yours here, currently with free delivery and 10% off if you use the code SPROGCAST at the checkout]