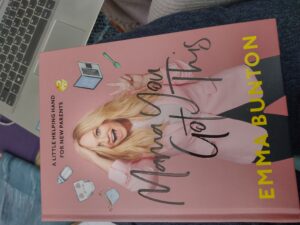 Mama, you've got this is the latest celebrity parenting book, from the pen of Spice Girl Emma Bunton and her team of experts. Emma has her own range of eco-disposable nappies to sell, alongside her advice for the first 12 months of parenthood.
The book is divided into six main sections: life as a new mama, breastfeeding, sleep, nappies etc, growth and development, and self-care for the new mum. This seems entirely reasonable, and that first section has a lovely focus on the fourth trimester and settling in to the transition to motherhood. The 'expert' advice in the breastfeeding section comes from NCT's own super-BFC Fran Bailey, so I can't fault that. But as we move into talking about sleep, alarm bells begin to ring, as those tired old 'how much sleep does a baby need' tables are trotted out. Here we meet a US-based paediatric sleep consultant and author of such unpromising titles as It's never too late to sleep train. With his connivance, Emma offers two sleep-training alternatives, as though those are the only options, and recommends that new parents shouldn't feel guilty about using them. It's quite a surprise given the fairly attachment-orientated nature of the rest of the book, and would put me off recommending it.
We then swerve back into baby care, carrying, and how to buy Emma's special nappies, before finishing with a guide to the best healing crystals.
I wanted to love this book because my mate Fran is in it, and Fran's bit is the highlight, but this is a classic example of a mum with a platform thinking that her experience – of which much is shared in this book – is universal and indeed useful. If you're a fan and want to read the Adventures of Booby Spice, I say go for it; but there are far more recommendable books out there for new parents to read.
[Disclosure: I was sent a free review copy of this book, courtesy of Penguin Books]