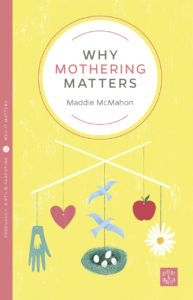 Why Mothering Matters is a book full of myth and metaphor, exploring the metamorphosis of woman into mother in a world of judgement and inequality. Maddie McMahon is well qualified to write this book, with her years as a doula, doula trainer, and breastfeeding counsellor granting her a profound understanding of the many different forms this transformation can take, and the almost endless pressures and influences that bear down on the work of mothering.
A contemporary companion to Naomi Stadlen's What Mothers Do, this book starts its journey here in the 21st Century, listening to the voices of mothers who share their feelings and experiences. What this uncovers is a world of contradiction, where we can feel isolated and yet never disconnected from the world, and where advice comes so thick and fast that it is impossible to grasp hold of the threads that might be useful. We see the many different relationships that can smooth out a difficult day, or blow your confidence out of the water, just in a choice of words.
But this book is not all crowdsourced anecdata; and particularly in the chapter on 'The Chemical Soup of Motherhood' Maddie gives us the science behind attachment and baby brain development, relating this to the mother's wellbeing as the foundation stone of healthy growth in both those areas.
We then swim deeper into the global and historical context of mothering, and page by page the book gets more deeply and gloriously feminist, capturing the essence of motherhood: it is hard, we even make it hard for ourselves, and then the world makes it harder; but it is amazing and under-appreciated. What would the world be like, Maddie asks; what would politics be like, if the country was run by a circle of mothers?
It's a manifesto and a celebration, but also a very personal piece of writing. Maddie writes about how vulnerable mothers can be, and makes herself vulnerable with this subject which is clearly so precious to her. It's a really beautiful piece of writing, in so many ways.
[Disclosure: I was sent a free copy of Why Mothering Matters by the publishers. You can get your copy here, with a 10% discount if you use the code SPROGCAST at the checkout]
Maddie talks about the process of writing the book in Episode 46 of Sprogcast.