Book review: Why Your Baby's Sleep Matters, by Sarah Ockwell-Smith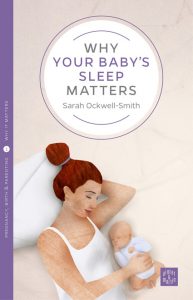 I am full of admiration for Sarah Ockwell-Smith in her firm and thorough representation of attachment parenting, particularly around the difficult subject of infant sleep.
Her Why It Matters book tells us how infant sleep really works, with technical information in the early chapters, and then a good section on the historical context of social attitudes to sleep, advice, and "experts," which really feels like the most important part of the book. Having read a great deal about the science of sleep, these sections give some interesting statistics, but didn't really break any new ground for me. The chapter on the Science of SIDS however was particularly useful and gave me much to reflect on.
Ockwell-Smith writes with a tone of despair that sometimes comes close to contempt for the naivete of society and the many common misconceptions and misunderstandings about infant sleep, and while what she says is satisfyingly evidence-based, referenced and well-explained, I do think the tone could be kinder and more compassionate. The fact is that she pulls no punches, hence my admiration, but this might not be the first book on the subject that I would offer to a parent.
[Disclaimer: I was given a free review copy of this book by the publishers. You can buy it from their website, and get a 10% discount with the code SPROGCAST]