Book review: Pride & Joy, A Guide for Lesbian, Gay, Bisexual and Trans Parents – by Sarah & Rachel Hagger-Holt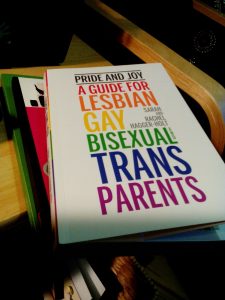 This is the most perfectly-titled book I have ever come across, a fact which became increasingly evident as I read it – in one sitting – and found it to be so warm and upbeat, a book that is truly full of pride and joy.
Pride And Joy would be useful and interesting for LGBT parents; those considering becoming parents or even wondering if they ever can become parents; children of LGBT parents and other extended family members, and anyone working in a support role including health professionals, antenatal teachers and others. It is packed with anecdotes and quotes from that same wide-ranging group, so that it gives the reader a rich narrative, coherently exploring the broad experiences in the LGBT world. Each chapter ends with some points to consider, with signposting to useful resources, making it practical as well as very readable.
One thing that came across to me was that LGBT families have more common factors than differences with non-LGBT families. The authors treat extended and complex family situations as largely positive, acknowledging that blended families are now the norm for many people in western society, whatever the sexual orientation or gender identity of the parents. Many issues relating to pregnancy, birth, new parenthood, and growing up are not unique to LGBT families, however the fact that much of the support offered in these situations comes from the straight community reminds us of the importance of being open and inclusive when supporting parents. This book is well positioned to increase knowledge and understanding, and I hope it will be very widely read.
[Disclaimer: I was sent a free copy by the publisher. You can buy your own copy from their website, and use the code SPROGCAST at the checkout for a 10% discount]