Book review: New Walk, by Ellie Durant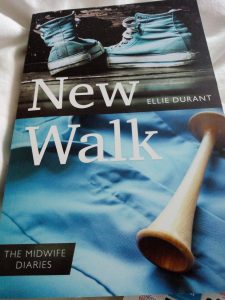 New Walk is the first novel of midwife Ellie Durant, and a fitting companion-piece to Alice Allan's Open My Eyes from the same publisher. It tells the story of Chloe, a Leicester teenager who has been the responsible member of her family in the years since her mother died, and has finally decided to do something for herself, and applies to study midwifery.
The main philosophical theme of the book is that dilemma between selfishness and responsibility: do women have the right to decline medical advice? Or to choose what happens to their own bodies? And who has the power?
Chloe is a likeable character going through some tough times, supported (or not) by a diverse cast. The plot may not twist much, but it is soundly structured, satisfyingly ended, and well decorated with the details of Chloe's learning about pregnancy and birth. Ellie Durant writes confidently about what she knows, giving this novel a sincere and grounded feel. It's light reading with some darker tones: great summer lit.
[Disclaimer: I was sent a free copy of New Walk by the publishers Pinter & Martin. Get yours here with a 10% discount at the checkout, using the code SPROGCAST]