Book Review: Birth Work as Care Work, by Alana Apfel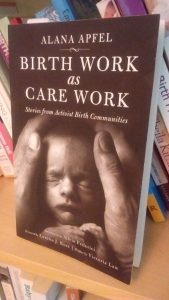 Birth Work as Care Work is an important introduction to the subject of intersectionality in the birth movement, drawing out themes of oppression and inequality through the stories of women.
Alana Apfel and her contributors identify the challenges of a profit-driven healthcare system dominating birth, and a society where "white volunteerism" overlooks the real lived diverse experience of birthing women in communities that are not their own. Apfel creates a space for birth workers to be heard on both a personal and a political level, including four beautiful birth stories.
I found this book challenging to read as a white middle class cis woman, because although I am steeped in a culture of empowerment, of being "with woman," and of respect and awe of the birthing body, the contributors are quite deliberately not talking to me. Reading it has been a good lesson in making myself aware of the water I swim in, and not trying to "fix" others' experience from within my own frame of reference.
This is a recommended read for anyone interested in the broad political and social context of birth, and wiling to feel like our work is radical, valuable, and important.
[Disclaimer: The author sent me a free copy of her book]. We will be chatting with Alana in Sprogcast Episode 27.