Book Review: Beautiful Birth, by Suzanne Yates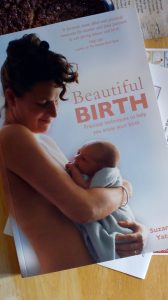 This is a nice book, a keeper for sure. Beautiful Birth is an attractive, slim volume with an immediate appeal to anyone looking for practical techniques for coping with childbirth.
It has two main sections. The first section covers breathing and visualisation, positions for labour, and massage. It gives an uncomplicated rationale for why these things are helpful, and a step by step approach to practicing them during pregnancy, and using them during labour. It does include a little more chinese medicine and shiatsu than I would normally be comfortable with, but actually the book is so useful that for once I'm not going to make snarky comments about that.
The second section is on preparing for birth, and is a straightforward explanation of what happens and how a woman can use the coping techniques from the first section, to help herself have a positive experience. Its approach to planning the birth is about connecting with yourself and reflecting on what kind of environment and support feels best. It touches on decision making when things don't go to plan, and very briefly on the "fourth stage" of labour, meeting the baby.
I think most pregnant women could find something useful in Beautiful Birth, whatever kind of birth they are expecting; it's never unhelpful to have some strategies for bringing calm. It's a shame the pictures are not more ethnically diverse, but I would generally recommend this book.
[Disclosure: I was sent a free review copy by the publishers. You can get hold of it here, with a 10% discount at the checkout using the code SPROGCAST]