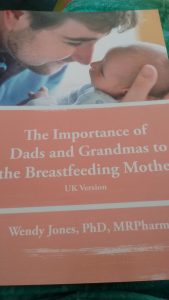 I would consider Dr Wendy Jones to be one of the most trustworthy resources on breastfeeding in the UK, particularly in her specialist area of breastfeeding and medication. This is a general book about breastfeeding, aimed at fathers and grandmothers. The dad-focus is on how to help (and a little bit of how not to) given that fathers may not fully appreciate the importance of their role to start with; and the granny-focus is on reframing some of the older generation's expectations and preconceptions, given that they may have done things differently themselves.
Jones lays out the rationale for her advice, with a detailed explanation of what breastmilk is and how breastfeeding works. Each chapter includes a summary of take home messages, and she covers many "But what if…?" scenarios. Well-referenced, with a decent index and a list of helplines, this could be a very useful book. It's worth pointing out that it covers formula feeding, sterilising equipment, and expressing in some detail too.
My small criticisms would be that the pictures are often small and unhelpful (although there are many good diagrams and tables of information), and being in black and white they are not at all useful for illustrating the colours of newborn poo or changes to a nipple after feeding. I disagree with Jones' description of colic as pain/wind, when so many authoritative sources, including the NHS, define it as unexplained crying. Perhaps it is difficult to take the pharmacist hat off altogether.
Where Jones does take the pharmacist hat off, however, is in her friendly personal tone, and in the "bonus feature" of her own story about supporting her daughters with breastfeeding, which is fascinating and moving.
This is a book I will keep to hand as a good source of reliable information, and I would widely recommend it to breastfeeding supporters, and of course to Dads and Grandmas.
[Disclaimer: Wendy sent me a free review copy of her book – thank you! We had a chat with her on Sprogcast a little while ago; listen here]