What does a postnatal doula do?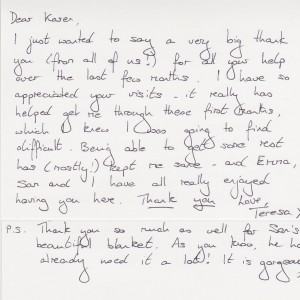 A postnatal doula is a little bit like a maternity nurse or mother's help. We care for you while you care for your baby. Here are some of the things that previous clients have appreciated:
Listening and offering emotional support, encouragement and information;
Helping mum to get some rest;
Making a sandwich and a cup of tea;
Helping parents learn about newborn care and calming, and to get to know their baby;
Building confidence as a mother;
Good company and a sense of humour;
A well of calm;
General support with premature twins;
Supporting mum on her first trips out with her baby;
Offering specialist breastfeeding support, and help with feeding decisions;
Little jobs around the house;
Finding sources of social and professional support in the area.
I work in Wokingham, Bracknell, Reading, Woodley, Crowthorne, Twyford, Ascot, Sandhurst, Yateley, Finchampstead, Winnersh, Earley and other parts of Berkshire and Surrey.
I provide quiet support, to help you gain confidence as a parent. I provide ONLY evidence-based information, and do not offer advice. I do not offer complementary medicine or alternative therapies. I do help you to find ways of coping with the more challenging aspects of normal baby behaviour.
I know my limitations, and signpost you to other sources of support if you need something that I don't have.
A doula's role is to help you to discover how YOU want to do things. I believe that it is important not to impose our views about parenting on you, but I can help you find out about different ways of doing things.
I know that I will never know everything about being a doula, and that I will learn something from every family I meet.
I charge £20/hour for visits in your own home, to include mileage up to a 20 mile round trip. Mileage above this is charged at 45p per mile.